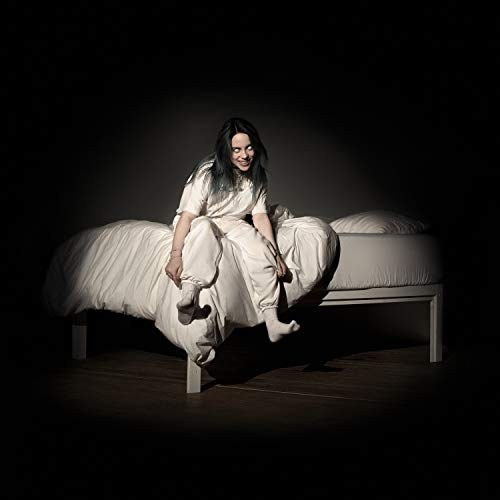 Beginning with the haunting alt-pop smash "Ocean Eyes" in 2016, Billie Eilish made it clear she was a new kind of pop star—an overtly awkward introvert who favors chilling melodies, moody beats, creepy videos, and a teasing crudeness à la Tyler, The Creator. Now 17, the Los Angeles native—who was homeschooled along with her brother and co-writer, Finneas O'Connell—presents her much-anticipated debut album, a melancholy investigation of all the dark and mysterious spaces that linger in the back of our minds. Sinister dance beats unfold into chattering dialogue from The Office on "my strange addiction," and whispering vocals are laid over deliberately blown-out bass on "xanny." "There are a lot of firsts," says Finneas. "Not firsts like 'Here's the first song we made with this kind of beat,' but firsts like Billie saying, 'I feel in love for the first time.' You have a million chances to make an album you're proud of, but to write the song about falling in love for the first time? You only get one shot at that."
Billie, who is both beleaguered and fascinated by night terrors and sleep paralysis, has a complicated relationship with her subconscious. "I'm the monster under the bed, I'm my own worst enemy," she told Beats 1 host Zane Lowe during an interview in Paris. "It's not that the whole album is a bad dream, it's just…surreal." With an endearingly off-kilter mix of teen angst and experimentalism, Billie Eilish is really the perfect star for 2019—and here is where her and Finneas' heads are at as they prepare for the next phase of her plan for pop domination. "This is my child," she says, "and you get to hold it while it throws up on you."
Figuring out her dreams:
Billie: "Every song on the album is something that happens when you're asleep—sleep paralysis, night terrors, nightmares, lucid dreams. All things that don't have an explanation. Absolutely nobody knows. I've always had really bad night terrors and sleep paralysis, and all my dreams are lucid, so I can control them—I know that I'm dreaming when I'm dreaming. Sometimes the thing from my dream happens the next day and it's so weird. The album isn't me saying, 'I dreamed that'—it's the feeling."
Getting out of her own head:
Billie: "There's a lot of lying on purpose. And it's not like how rappers lie in their music because they think it sounds dope. It's more like making a character out of yourself. I wrote the song '8' from the perspective of somebody who I hurt. When people hear that song, they're like, 'Oh, poor baby Billie, she's so hurt.' But really I was just a dickhead for a minute and the only way I could deal with it was to stop and put myself in that person's place."
Being a teen nihilist role model:
Billie: "I love meeting these kids, they just don't give a f**k. And they say they don't give a f**k because of me, which is a feeling I can't even describe. But it's not like they don't give a f**k about people or love or taking care of yourself. It's that you don't have to fit into anything, because we all die, eventually. No one's going to remember you one day—it could be hundreds of years or it could be one year, it doesn't matter—but anything you do, and anything anyone does to you, won't matter one day. So it's like, why the f**k try to be something you're not?"
Embracing sadness:
Billie: "Depression has sort of controlled everything in my life. My whole life I've always been a melancholy person. That's my default."
Finneas: "There are moments of profound joy, and Billie and I share a lot of them, but when our motor's off, it's like we're rolling downhill. But I'm so proud that we haven't shied away from songs about self-loathing, insecurity, and frustration. Because we feel that way, for sure. When you've supplied empathy for people, I think you've achieved something in music."
Staying present:
Billie: "I have to just sit back and actually look at what's going on. Our show in Stockholm was one of the most peak life experiences we've had. I stood onstage and just looked at the crowd—they were just screaming and they didn't stop—and told them, 'I used to sit in my living room and cry because I wanted to do this.' I never thought in a thousand years this s**t would happen. We've really been choking up at every show."
Finneas: "Every show feels like the final show. They feel like a farewell tour. And in a weird way it kind of is, because, although it's the birth of the album, it's the end of the episode."
声明:站点所有资源均转载自互联网,仅用于试听交流之用,且资源来自于互联网,并不提供本地下载。如有侵犯您的权益,请联系adman##520hifi.com 我们将及时删除处理!